An annual meeting of the International Scientific Committee was held at AstroCeNT
This summer AstroCeNT is celebrating its fourth anniversary. To sum up our achievements, on 23 June an annual meeting of the International Scientific Committee was held.
While most ISC members participated remotely via zoom, we had the pleasure to host at AstroCeNT Prof. Antoine Kouchner, Director of APC (Paris, France), Prof. Sotiris Loucatos, former Deputy Director of APC, as well as Prof. Rafał Moderski, Director for Science of NCAC PAS.  Two representatives of the Foundation for Polish Science, Kinga Słomińska and Dr Karolina Pakos-Żebrucka, also joined the ISC via zoom.
The main purpose of the meeting was to evaluate the IRA AstroCeNT agenda and the performance of our team leaders and their research groups.  In accordance with the requirements of the IRA program, such an evaluation needs to be done every four years.
The meeting started with an overview of AstroCeNT by Prof. Leszek Roszkowski  who provided a brief summary of the main steps and events, challenges, as well as achievements of a 4-year period.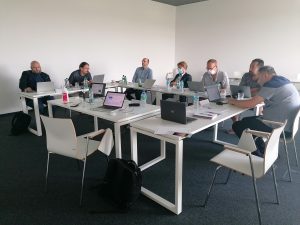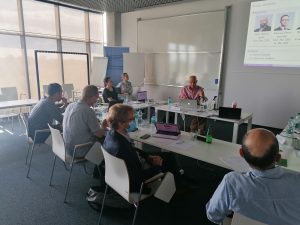 This was followed by short presentations by all the team leaders. Most of the talks touched upon issues related to current research, cooperation with international partners and technology development. It was noted that some of the projects are at a very advanced stage of preparation  for commercialization. The ISC members showed much interest in the presentations and also discussed possible future of AstroCeNT and its financing perspectives.
Next, a closed session of the ISC was held. It was dedicated to team leaders' and IRA AstroCeNT's agenda evaluation. The ISC evaluated positively all the team leaders highlighting close connections of their groups with international scientific community and high level of scientific equipment development. It was also stated that relevant groups could advertise better the new innovations that are being done at AstroCeNT to the outside world.
The ISC members and the FNP representatives summed up four years of AstroCeNT operation underlining the tremendous effort that went into setting up the Centre from scratch, as well as the level of scientific achievements and international recognition that AstroCeNT has gained in such a short time. Suggestions regarding commercialisation procedures and plans for the future were also given.
We firmly believe that our achievements and very advanced know-how developed at AstroCeNT will lead to  numerous successful grants applications in the near future.