Vice-Rector for Development of the Warsaw University of Technology visited AstroCeNT
AstroCeNT's activity,

from the beginning of the project,

has been associated with the Warsaw University of Technology (Politechnika Warszawska). We use their office and laboratory space (CZIiTT and CEZAMAT), WUT also supports us in access to research equipment.

What's more, some of the AstroCeNT staff are also employed at the PW.
On 13 December 2022, we were able to present the fruits of this cooperation during a meeting with Prof. Adam Woźniak, PW Vice-Rector for Development. The meeting was also attended by Ms Anna Rogowska, Director of CZIITT PW.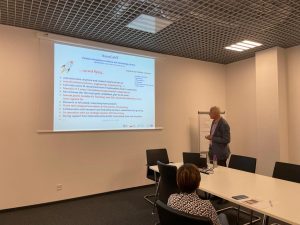 AstroCeNT is one of the few centres in Poland simultaneously carrying out research and developing technology in the field of exploration of the universe.

Prof.

Woźniak (being himself a graduate of Mechatronics at the Warsaw University of Technology) said that his research focuses on the ground, and AstroCeNT operates in space. And it's really good to have such a reliable ground for our research!
We hope that presenting the scope of AstroCeNT's research and capabilities will help us further develop our mutual cooperation.